Power Packed: Eddy Borysewicz's Electrified 1965 Ford Mustang by Revolt Systems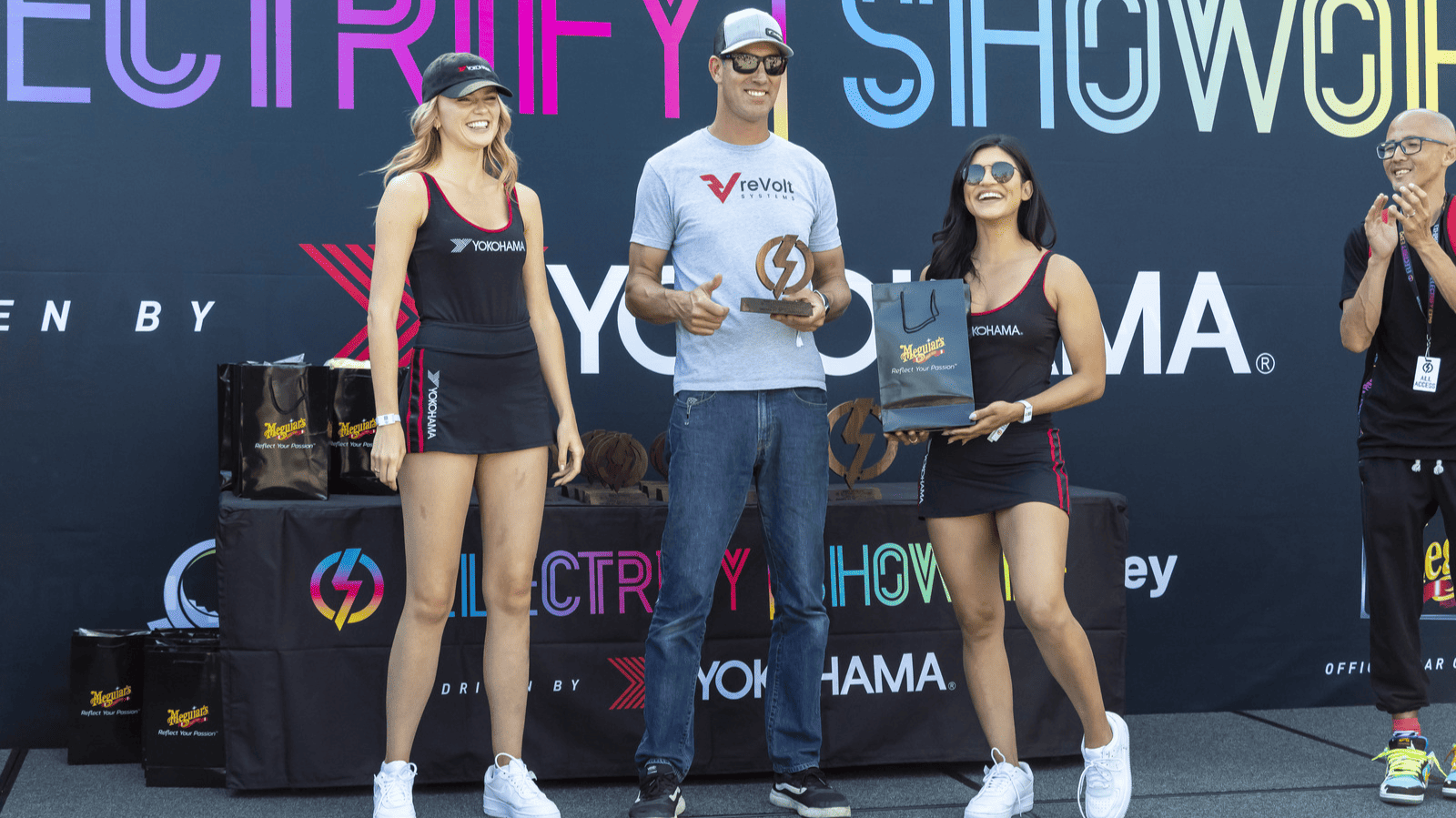 Eddy Borysewicz's passion for classic cars and innovation led to an electrified 1965 Ford Mustang, blending power and nostalgia.
Revolt Systems' electric crate motor transformed the Mustang with 450kW power and 850 ft⋅lb torque at the yoke.
Borysewicz's electrified Mustang won the Best Paint award at Electrify Showoff in Long Beach, CA.
Eddy Borysewicz, the mastermind behind the eye-catching 1965 Ford Mustang, is making waves in the custom EV car scene with his disruptive build. This ain't your ordinary Mustang, folks. Borysewicz's love for classic American cars, combined with his passion for innovation, led him on an electrifying journey to create something truly extraordinary.
A Love for Classic American Cars
Borysewicz's fascination with classic American cars started way back in high school. He reminisces about his first Mustang, which his father worked tirelessly on, instilling in him a deep appreciation for these iconic vehicles. But Borysewicz wanted more. He craved power and torque that traditional internal combustion engines (ICE) simply couldn't provide. And so, the seeds of an electrifying idea were planted.
1965 Ford Mustang: The Heart of the Beast
Borysewicz's vision of an electrified Mustang became a reality with the help of Revolt Systems' electric crate motor. Packing a whopping 450kW of power and 850 ft⋅lb of torque at the yoke, this motor brought new life to the classic pony car. As Borysewicz proudly proclaims, "My favorite modification is the electric motor by Revolt Systems. It's the heart of the beast!"
Power and Control
To harness this electrifying power, Borysewicz incorporated top-of-the-line performance electronics. The T2C system took charge of the LDU control, ensuring every watt of electricity was channeled efficiently. AEMEV CCU, BMS, and VCU took care of the 12-volt battery, electrical system, and charging needs, while AEM's HV Charger kept the high-voltage battery juiced up. It's a symphony of electrifying components working in perfect harmony.
1965 Ford Mustang: Tackling the Track with Style
The electrified Mustang needed more than just power; it needed the right shoes to strut its stuff on the track. Billet Specialties wheels, accompanied by 345-19-35 rear tires, provided the perfect blend of style and performance. And when it came to stopping power, Baer Brakes stepped up to the plate, ensuring this electrifying stallion could come to a screeching halt when needed.
Handling Like a Dream
A race car of this caliber demands a chassis and suspension system that can handle the twists and turns of the track. Enter Roadster Shop's full chassis and suspension, which turned the Mustang into a nimble beast, gripping the road with unrivaled precision. It's a marriage of power and control, making every drive electrifying.
Customizing the 1965 Ford Mustang Beyond Expectations
Borysewicz's attention to detail extended beyond the performance aspects. The exterior paint, crafted by Hot Dog Kustoms and Custom Shop, ensured this electrifying machine turned heads wherever it went. Custom LED lighting added an extra touch of flair, making the Mustang shine like a star on the track. And while the interior by AVS fabrication might not boast audio and multimedia features, it's designed with one thing in mind: pure racing focus.
A Legacy of Achievement
The electrified Mustang built by Eddy Borysewicz has made waves in the car scene, capturing the attention of enthusiasts and judges alike. It won the Best Paint award at the 2023 Electrify Showoff in Long Beach, CA, and graced the front cover of the prestigious EV Builders Guide. To top it all off, it claimed the coveted Ultra-EV Best of Show award, solidifying its place in the annals of automotive greatness.
Eddy Borysewicz: The Man Behind the Wheel
But who is Eddy Borysewicz, the man behind this custom creation? Besides being a passionate car enthusiast, he has an intriguing backstory. Borysewicz served in the United States Armed Forces, embodying the spirit of dedication and commitment. Now, he's channeling that same energy into his electrifying builds, leaving a mark on the car scene that will be remembered for years to come.
Eddy Borysewicz, the man who electrified a classic American muscle car, has proven that the future of automotive performance is electric. His innovative vision, combined with Revolt Systems' cutting-edge technology, has birthed a masterpiece that defies expectations. This electrifying Mustang is a testament to the boundless possibilities of electrification and a true symbol of automotive excellence.